Here is the blankie video I've been working on. I still need a few pics. If you haven't sent me a blankie pic yet, email it to me. I also need some pics of your kids in the hospital, and one cute one of them for the end. Plus if anyone knows how to post a one true media on here so you don't have to click on it and go to another screen, I can't get it to work. So help me computer friends.

Jaxsons blankies for babes
Also, this mommy that found Jax and fell in love with him is doing a fundraiser for him. She even made a button. You can win some great prizes so go check it out.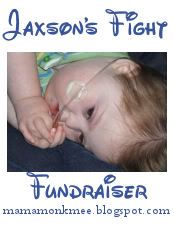 She also made these car magnets. I just love them. They are 5 dollars. Let me know if you would like one.