(New update, I had to change the transformers part. I guess I'm giving away to much to people that havent seen it. Just know though that it is not the end of the movie. Not at all)

First a little update. We went and saw Transformers today. My boys have been dying since it came out. Ya know, its based off of action figures, so why do they have to put the swearing in? My boys ignored it, they were more interested in the battles. Did I ever think I would cry in Transformers? Not until my autistic son (who LOVES transformers) cried his eyes out when one of the transformers died. Didn't think I needed the tissue box for this one. Then we went to a picnic for our niece that is moving to Florida with her new hubby. He is in the Air Force so their going to a base.
Jax is slowly getting better. He is now not fussy at all unless I mess with his tube. We are still trying to get into a routine of when to do the flushes and how to best do it. We went and bought some big pads, after we learned that a towel underneath doesn't hold 500 cc's of fluid.
Oops. We'll learn as we go, just like everything else.
Again I'm posting the new blankie video. I'm going to post it on Youtube. I added some pics to it and its finally done.



Also, another reminder. Sorry if you've seen this, I know a lot of people don't check blogs on the weekend so I'm reposting. Jax fundraiser were you can win some great stuff.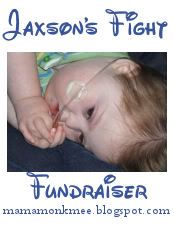 And his car magnet you can get for 5 bucks.