If your in the online special needs community you've probably heard about the Ipad scam.
A few months ago, just as Jax therapists were talking about him communicating with some kind of device, I heard about an Ipad giveaway. I was super excited when we were told that he was one of the winners. After a lot of excuses on why the Ipads hadn't been shipped, a little digging from people discovered some pretty disturbing stuff. The whole thing was a fraud! The special needs world was rocked by one, evil person. Trust was lost, people went into hiding, and a whole bunch of families that were promised Ipads were left with nothing.
Thats when a couple of SN parents, along with some good Samaritans, decided to try and make this right. Mission Ipossible was born.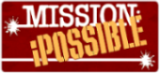 Grab this Button!
They are determined to get all these kids their Ipads. The kids were put in random order, Jax was number 7, and he just got his Ipad! Please go to the website and consider a donation of any size. They have partnered with the Gwendolyn Strong Foundation, so when you donate, you know its secure and where its going. They are almost halfway there, and that is so amazing!

Jaxson's Ipad arrived Saturday


Wrapped and ready.


With Jaxson, the Ipad is a whole new world. We are starting with the most basic of things. His vision and hearing are poor, so we just want big, bright things that all he has to do is touch to get a reaction.


Its going to take some tweaking, as it can be difficult to sit him upright, hold the Ipad, and hold his hand to touch the Ipad. Indoors its hard, because he arches and tries to look up at the light. Hopfully soon he will reach for it himself. But he is definitely looking at the Ipad, so the bright is working!


How amazing would it be if someday Jax could touch words on the Ipad to tell us his wants and needs? A world we never thought possible, but it may just be!